Hello, I'm Michael O'Connor. Since 1999, my wife Becky and I have operated Casitas de Gila Guesthouses and Art Gallery near the small community of Gila (Hee-la), in southwestern New Mexico.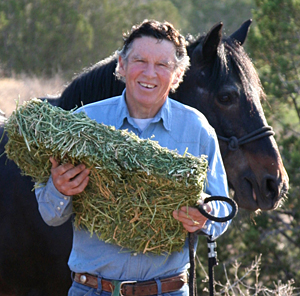 We created and built the Casitas as an ecotourism-focused business offering short-term lodging accommodation for people interested in the unique natural history and various outdoor pursuits that can be found here in the Gila Wilderness and surrounding area.
Looking back, I suppose the only real constant in my life has been a fascination and deep abiding love for the world of Nature. With the exception of the first 11 years of my life growing up in Detroit, Michigan, where my connections with nature were frustratingly limited, I have mostly lived in more rural areas and never far from large expanses of undeveloped nature. At the age of 12, I moved with my parents to the small town of Eustis, in Lake County, Florida, where I had the good fortune to grow up in what I call "Old Florida", a largely undeveloped and natural landscape of lakes, snakes, swamps, alligators, the then-pristine Ocala National Forrest, amazing fresh-water springs, and endless acres of orange and citrus groves, all waiting to be explored. This was the heart of Marjorie Kinnan Rawlings Country and the inspiration for her wonderful novels The Yearling, Cross Creek and South Moon Under. So much in the style of Huck Finn, I matured in a semi-tropical natural paradise and loved every minute of it.
Even as a small child I had always loved collecting rocks. And so, I suppose, it was only natural that I would eventually complete a BS at Florida State University and a PhD at the University of Montana in Geology before moving on to become a geology professor for the next 14 years. Geology is a great profession for a person with a passion for Nature, and throughout those years I had the opportunity to also do research in some really great places – Precambrian stratigraphy in Glacier National Park and the Mission Wilderness and Bob Marshall Wilderness areas of Montana, and the Grand Canyon of Arizona; followed by marine geology on the Florida Gulf Coast, the Outer Banks of North Carolina and the Kattegat Sea of Denmark.
Late in my teaching career, one summer I did some consulting work on a mineral prospect in Maine. The project proved to be an interesting and challenging one. Enough so that in time I left my university teaching position and for the next eight years was connected with nature in a totally different way, this time through the various trials and tribulations of setting up and running an entrepreneurial garnet mining and processing operation in Northwestern Maine. Eventually the garnet venture proved successful and was sold, at which point I then went into private business consulting, working out of Portland, Maine. The consulting was mostly in the area of small business improvement, but also involved several mining projects in Baja Mexico.
It was during the early consulting years that another long-held dream materialized, that of owning and operating a large sailing vessel – a 41-foot Lord Nelson cutter that I named after my two daughters, Kimberly and Laura. For the next five years, I conducted four-day/three-night educational sailing trips along the Maine coast during the summer months, under the banner of The Coasting Naturalist Expedition. Then, one fateful day while in search of new business cards and stationary, I visited a newly-opened printing business in Portland. It was indeed a propitious decision, for this printing business just happened to be owned by a young woman most recently from Burlington, Vermont, by the name of Becky Erickson, who later became my wife and partner.
Three years later another major fateful event occurred: our decision to take a four-day Thanksgiving holiday in Ireland. Like many typical Americans who visit Ireland, we spent most of our time on the west coast in County Clare, listening to traditional Irish music in the pubs and exploring the amazing local geology and archaeology. We had a wonderful time, but little did we know that the leprechauns and the fairies were afoot, busily working their magic. And, indeed, they spun their magic well! Within two years of this first visit to Ireland. Becky and I moved there, and brought Becky's 11-year-old son Jeff with us. We settled in the small southwest coastal village of Dingle in County Kerry. For the next seven years we lived in a 150 year-old farmhouse that we renovated and ran as The Old Stone House Bed and Breakfast. In addition to the B&B operation, which Becky managed, I worked as a consultant in resource evaluation, ecotourism and small business development, in large part through the Irish Government. Also, we were once more in the sailing expedition business, having sailed the Kimberly Laura from Portland, Maine, to her new berth in Dingle Harbor. Now operating as the Celtic Nature Expedition, we offered eco-tourism trips to the many magnificent offshore islands with their stunning array of geology, archaeology and sea life.
By 1997, both of us were feeling the need to return to the U.S. because of family issues. It would be another year before we managed to sell the Old Stone House and the Kimberly Laura, and return to the States. It could have been the lingering affects of seven years of the incessant chill and damp of Irish weather or fond memories of doing undergraduate geology field work in the Sangre de Cristos mountains, but either way, New Mexico caught our eye and drew us to warmth and sunshine. By February 1999, Casitas de Gila Guesthouses were under construction, and on June 6 the first guests arrived. Thus began our present, ongoing connection with the incomparable Nature of the Gila Country in Southwestern New Mexico.