For additional day hikes, check out Michael's
Gila Nature Blog!


Hiking Opportunities in Southwest New Mexico …
---
Guests interested in Hiking will find
much to enjoy at Casitas de Gila Guesthouses!
Hiking on Casita Lands …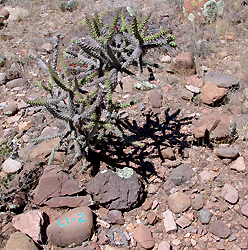 We have 265 acres of unspoiled high desert terrain that comprise the Casitas de Gila Nature Preserve. At present the Preserve is accessed by 12 different trails offering over 6 miles of hiking and walking through diverse, natural landscapes ranging in elevation from 4,700 feet to 5,500 feet. The trails vary from short, easy hikes right out the door of your Casita to longer, more difficult hikes into the hills and mountains beyond. Download our Trail Map for a look at our trails.
One trail that is popular with all of our guests is our Self-Guided Nature Trail. This 0.6 mile loop trail winds its way across the slopes in front of the Casitas and then along the Bear Creek floodplain below. A detailed trail guide, provided in each Casita, will introduce you to the natural and human history of this special part of Southwest New Mexico by means of numbered markers at selected stops along the trail. In addition to identifying and providing interesting information about the plants, shrubs, trees, rocks, and rock formations encountered on the trail, the trail guide offers insight into the local geologic history, geomorphology, Native American history and pioneer ranching heritage.
Several additional trails are designed to highlight other fascinating aspects of the Bear Creek Riparian area that extends for 3/4 of a mile through the middle of the Casita lands. Over the millennia this unassuming little creek, which normally babbles along quietly year-round about a hundred feet below the Casitas, has cut deeply into this desert upland to produce a spectacular cliff-lined canyon, heavily vegetated with groves of cottonwood, sycamore, willow, walnut, and gray oak. Several of the cottonwood and sycamore are very large and ancient, measuring up to 25 feet in girth and several hundreds of years in age.
Behind and immediately adjacent to the Casitas there are easy to moderately difficult trails across the juniper, pinon, mesquite, catclaw, and cactus covered flats and hills along the road leading into the Casitas. One easy trail leads up to a nice picnic spot that overlooks Bear Creek Canyon, Turtle Rock, and the multi-colored lava flows and ash falls which make up the steep-walled escarpment of the Pinos Altos Range in the Gila Wilderness just five miles away to the north.
Across and beyond the creek, challenging and steeper trails await the more adventurous hiker. One interesting trail, a favorite with rock and mineral collectors, leads up a dry wash side canyon lined with colorful cliffs of Gila Conglomerate. Another trail, strictly for the physically fit, climbs abruptly some 800 feet in about a mile to provide an eagle's eye view of the whole Gila Valley, the Pinos Altos and Mogollon mountains, the Gila Wilderness, the Blue Mountain Wilderness, the Burro Mountains, and beyond into Arizona.
Each Casita has is a nature library with various books, guidebooks, and information about hiking in general and the major hiking trails in the area. Your hosts, Becky and Michael, are also quite knowledgeable about hiking in the area and will be glad to direct you and provide detailed topographic maps for specific trails and nearby areas when you are ready to venture away from the Casitas. Additional maps and information about selected trails in the Gila National Forest and Wilderness areas are available from the very friendly folks at the Glenwood Ranger Station, and also on display on a wall in our Art Gallery courtyard.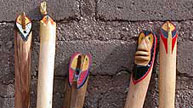 Caps, hand-carved walking sticks, and books and maps detailing hikes and hiking in the area, are available for purchase in our Art Gallery. Walkie-talkies are provided for guests who are walking alone on the Casita lands.