Birdwatching at Casitas de Gila …
At Casitas de Gila Guesthouses and Nature Preserve, Birding Enthusiast Guests will find:
265 private acres of diverse landscape and habitat, including a year-round running creek with cottonwood, gray oak and sycamore riparian zone; cactus, mesquite and cat-claw covered rocky cliffs; grassy slopes; and juniper and piñon covered hills and flats — all readily accessible by 11 marked trails, making up over 6 miles of hiking trails and paths.

a wide diversity of bird species, both breeding resident and transient. We have been feeding birds year 'round at the Casitas since we opened in 1999, so there are generally many varieties of birds just outside your Casita door and along the trails.

hummingbirdbird feeders and feed provided at your Casita all year. In the spring, summer and fall, we'll keep you supplied with hummingbird nectar for the feeder hanging on your Casita porch.

field guides and spotting scope in your Casita. You are welcome to use these on Casita land. You'll be amazed at the birds that come right to your door!

a library with books, maps, and information on birding and the best local birding places, plus local knowledge from your hosts. Each Casita has its own nature library containing various books, guidebooks, maps and information about birds and birding in the Grant County area.


BIRDING EXPEDITIONS IN THE GILA NATIONAL FOREST
AND GILA WILDERNESS FROM YOUR BASE AT CASITAS DE GILA GUESTHOUSES …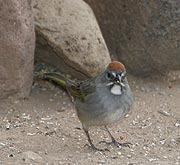 According to the Audubon Checklist for Southwest New Mexico, some 286 species of birds can be observed in the Gila/Cliff area of Southwestern New Mexico during various times of the year. Spring and Fall, of course, offer the most diversity because of yearly migrations.
For the avid birder, the opportunities for serious birding are good at any time of the year. Because of Southwest New Mexico's extreme range in topography (3,000 to 11,000 feet) and habitat (Low to Upper Chihuahuan desert, piñon-juniper-covered hills, ponderosa up to Douglas fir and aspen mountain areas, plus extensive riparian cottonwood and sycamore forest and wetlands along the Gila River drainage) the diversity of bird families found here is very large.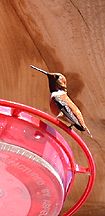 Birding in Southwest New Mexico is facilitated also by an accommodating year-round climate and the fact that roughly 60 to 70% of the land is public land in the form of National Forest, Bureau of Land Management land, State of New Mexico public land, plus numerous State, Federal, and private land trusts which are open to the public. Access to all of these lands is available through a vast network of State, County and National Forest roads, plus an extensive hiking trail system. The Gila National Forest alone, for example, comprises some 3.3 million acres of forest with over 2,500 miles of trails.
In short, finding excellent places for birding will not be a problem. Rather, your biggest challenge during your stay will be deciding on which of the many excellent localities to visit!
Below we've listed and described a few of the more popular birding places that are located near Casitas de Gila Guesthouses.


BIRDING LOCALITIES NEAR CASITAS DE GILA (within 15 miles)
HALF-DAY TO FULL-DAY BIRDING EXPEDITIONS :
---
Birding Localities Near Casitas de Gila (within 15 miles):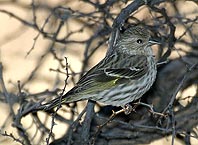 Gila River/Mogollon Creek Confluence Riparian Preserve and Upper Box of the Gila
Ten miles from the Casitas, at the end of State Road 293 near Cliff and just inside the Gila National Forest, the largest river in Southwest New Mexico, the Gila River, emerges from the mountains and canyons of the Gila Wilderness. At this site, known as the Upper Box (of the Gila), the Nature Conservancy and State of New Mexico have established a 1000± acre nature preserve, which is open to the public and offers some of the finest birding and hiking in New Mexico. This area offers a diversity of habitat for an exciting birding experience, featuring an outstanding riparian zone with ancient old-growth cottonwoods, sycamores and gray oaks bordered by towering volcanic cliffs and mountains.

Gila River Valley Fields and Pastures
Five to ten miles from Casitas de Gila Guesthouses, you can experience excellent birding right from your car along State Roads 211, 153 and 293 and adjoining County and Gila National Forest roads. Numerous special species can be observed here in the fields and pastures bordering the Gila River, such as the Sand Hill Crane (November through March) and Bald Eagle.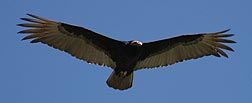 Gila River Bird Habitat Area and Middle Box of the Gila
Ten miles from Casitas de Gila Guesthouses, off US 180 on Bill Evans Lake Road and then FR 809, the Gila River re-enters the Gila National Forest as it begins its transect of the ancient Burro Mountains. This is the Middle Box of the Gila and, like the Upper Box, provides a wide range of birding and hiking opportunities surrounded by magnificent scenery in soul-nourishing solitude.
About 10 miles from Casitas de Gila Guesthouses, and just off the road leading to the Gila River Bird Habitat Area, is the man-made reservoir of Bill Evans Lake. This reservoir was constructed 30 years ago by Phelps-Dodge Mining Company to supply water to its copper mineral processing plant located 10 miles southeast in Tyrone. Bill Evans Lake is open to the public for fishing and picnicking. Although small, it is a rewarding spot for bird watching as it provides a welcomed and much-used watering spot for wildlife living in the surrounding mesquite, juniper and piñon covered hills.
Nine miles from Casitas de Gila Guesthouses is Sacaton Road, a County-maintained gravel/dirt road that leads west from the community of Cliff along the base of the Mogollon Mountains on the western margin of the Gila Wilderness. Connecting to Forest Road 147, this little-used byway makes a scenic 25-mile loop offering marvelous vistas as it meanders over a vast upland desert pediment surface. As you follow the road north and then to the west, the terrain gradually rises from mesquite, juniper and cactus-covered ranch range land into the ponderosa-covered foothills of the Gila National Forest before eventually emerging on to US 180 a few miles south of Glenwood. Although much of the road passes through private ranch land, excellent birding can be done from your car before reaching the numerous forest roads and trails accessible in the Gila National Forest portion of the route.
Sacaton Road Caution: In wet weather, this road can become virtually impassible even for four-wheel drive vehicles; however, during dry seasons the road is generally passable in passenger vehicles. Check with your hosts before traveling!


---
Venturing Further (half day to full day birding expeditions):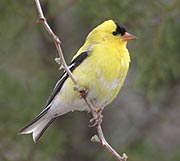 For the serious birder, an exceptionally diverse range of elevation and vegetation related habitats and species could be found on a day's outing from Casitas de Gila Guesthouses. To the North and East the mountainous portions of the Gila Wilderness rise from the piñon, juniper and scrub oak covered foothills into ponderosa forests at around 6,000 feet, eventually topping out in the alpine spruce and fir habitat at 9,000 to 11,000 feet. To the South and West of the Casitas, the landscape changes abruptly as it drops down off the Mogollon Rim to the warmer and more arid landscape of the northern Chihuahuan desert portion of the Southwest Basin and Range Province. This is a strikingly different landscape in which vast intermountain basins containing ephemeral playa lakes surround rugged mountainous masses rising island-like from the 4,000±-foot desert floor to heights of 7,000 to 8,500 feet.
Below are listed a few of the many excellent birding areas that are yours to explore, arranged by elevation from north to south. All of these areas can be easily accessed from Casitas de Gila Guesthouses during a day trip.

HIGH ELEVATION HABITAT
Mogollon and Willow Creek Campground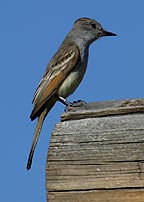 Four miles north of Glenwood on US 180, NM159 (or Bursum Road as it is known locally) begins a steep ascent into the high country of the Mogollon Range and the Gila National Forest. This winding, narrow mountain road is paved as far as the early-1900s ghost town of Mogollon at 7,000 feet, and then continues another 17 miles as a gravel road to Willow Creek Campground, passing over the Silver Creek Divide at 9,200 feet before dropping down to Willow Creek Campground at 8,000 feet.
For high-elevation bird species and habitat, as well as hiking access to the highest portions of the Gila Wilderness, the Bursum Road is a spectacular outing and the best of the best.
Caution: Bursum Road is a narrow, steep, winding mountain road demanding focused driving attention! The road is open to Mogollon all year, but is gated and locked beyond the town after the first snowfall until the snow pack melts in the spring.

Emery Pass and the Crest Hiking Trail (FT79)
Seven miles southeast of Silver City on US 180, NM152 heads east towards Truth or Consequences. After passing through the scenic Mimbres Valley, NM152 begins a gradual but winding ascent into the Gila National Forest topping out at 7,300 feet at Emory Pass, approximately 35 miles from Silver City. Here, the Crest Trail (FT79) extends north (and south) from the highway, providing easy access to high-elevation birding and hiking in the Aldo Leopold Wilderness portion of the Black Range.
MODERATE-ELEVATION HABITAT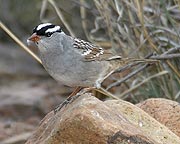 Catwalk National Recreation Area
Six miles east of US180 at Glenwood on NM 174 is the unique Catwalk Recreation Area in the Gila National Forest. Site of an early 20th century mineral processing mill, this beautiful deep canyon gorge was set aside in the 1930s as a National Recreation Area. The 1.1 mile well-maintained trail along and above the year-around rushing waters, quiet pools and waterfalls of Whitewater Creek provides excellent birding, plus access on Forest Trail 207 into the high-country beyond.

NM15 and Cliff Dwellings National Monument
NM15 is a paved road winding its way 45 miles northward from Silver City at elevations from 5,500 to 7,500 feet through rugged and spectacularly beautiful portions of the Gila National Forest to dead-end at the Cliff Dwellings National Monument within the heart of the Gila Wilderness.
Numerous trails and forest roads may be accessed from the highway and within the Cliff Dwellings National Monument area that provide excellent birding opportunities in piñon-juniper and ponderosa forest plus extensive riparian cottonwood and sycamore forest along Sapillo Creek and the Gila River.
LOW-ELEVATION HABITAT
Lower Gila Box Wilderness Study Area

One of the most remote yet highly rewarding low-elevation birding areas in Southwestern New Mexico is the Lower Gila Box portion of the Gila River near the Arizona border. This site is located on Bureau of Land Management land in the middle of nowhere and requires four-wheel drive, high clearance vehicles even in good weather. At this site, an extensive riparian forest of cottonwood, willow and sycamore surrounded by rocky cliffs and desert vegetation will amply reward the persevering and intrepid birder. A wide variety of desert-loving breeding species can be observed here along the river, as well as along the rocky roads leading into the site.
Not easy to find, let alone get to, the site is approximately 7 miles downstream from the community of Red Rock. Becky and Michael will be glad to provide directions and maps.

Hachita, Animas, and Coronado National Forest Area
South of Lordsburg, the landscape is quintessential Northern Chihuahuan Desert offering a widely different type of vegetation and wildlife species from that which has been described so far. This is the legendary and fascinating Bootheel Region of New Mexico, and it is definitely a land less traveled. Excellent birding can be done from your car along the many miles of essentially non-trafficked State and County roads in the area, which, in turn, will entice and lead the more determined birder onto the many thousands of acres of Bureau of Land Management and National Forest Service lands. Becky and Michael will be glad to suggest areas to go to and provide the necessary maps and directions.
BIRDING LINKS:
Southwest New Mexico Birding Trail
List of Birds Seen on the Casitas de Gila Nature Preserve
New Mexico Ornithological Society