Read about
Hiking on
Casitas de Gila's
265-acre Bear Creek
Nature Preserve
Check Out
Michael's
Gila Nature Blog!
for more hiking
information
"Even a whisper is too loud in this beautiful place. I've stopped to listen and have heard Nature's screaming silence. This is a gift. Thank you."
      —Guests from Oklahoma
"What a beautiful place! We loved waking up to a glorious sunrise over the mountains, beautiful hikes during the day, and awe-inspiring night skies."
      —From our Guest Book
"Our stay here was way more than expected—from the breathtaking views to the peace and quiet ... We took a day trip to the 'ghost town' and the Gila National Forest. That in itself was a treat ... great scenery plus we saw a good-size herd of elk ... All in all there were 100% way more memories than the cost of admission should allow."
      —Guests from Missouri
"I expected this to be an ideal place to bring my daughter and granddaughter. But your wonderful website could not prepare me for how lovely and peaceful our stay would really. An astronomy, biology, history, and art paradise."
      —From Our Guest Book
"Our first visit here and it was every bit what we had hoped for. My favorite thing? Sitting on a rock at the beginning of the trail and just listening — to the quiet, then the stream subtly breaking through, then the many birds. I did this every morning with my cup of coffee ... We have travelled all over the country and this is one of the most special places we have been to. "
      —Guests from Missouri
Hiking in Southwest New Mexico …
---
Your hosts at Casitas de Gila Guesthouses are happy to provide maps, driving directions, and other appropriate information to guests staying with us.

---

Day Hiking in the Gila National Forest, Gila Wilderness,
and on Other Nearby Public Land …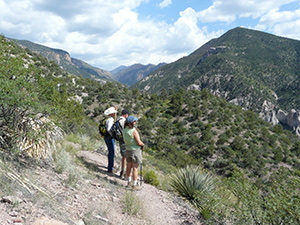 The Gila National Forest in Southwest New Mexico is a hiker's paradise, comprising some 3.3 million acres of pristine landscape consisting of soaring mountains rising to 11,000 feet, 1,500-foot-deep canyons, and High Chihuahauan Desert mesas and upland grasslands.
Enclosed within its boundaries are three designated wilderness areas: the Gila Wilderness area (550,000+ acres), the Aldo Leopold Wilderness area (202,000 acres) and the Blue Range Wilderness area (29,000 acres).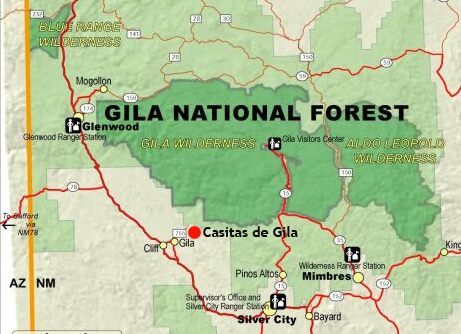 Situated just five miles north of Casitas de Gila Guesthouses, the Gila Wilderness and surrounding Gila National Forest offers our guests unlimited day hiking opportunities, ranging from easy, low-gradient walks along the Gila River, to moderately difficult, spectacular hikes through deep, high-walled canyons, to strenuous hikes across alpine peaks and ridges for experienced outdoor enthusiasts. This is true, unspoiled wilderness hiking, offering outstanding natural beauty, vegetation, and wildlife. With the exception of a few trails around the more popular visitor destinations (such as the Catwalk or Gila Cliff Dwellings) most of the trails are unimproved and little traveled. On most day hikes it is quite common to spend a full day on the trail without seeing another soul, a simple fact which, unfortunately, is becoming a rapidly-increasing rarity in the U.S. West today.

DAY HIKES TO SUIT EVERY INTEREST
The diversity of the types of day-hike trail experiences available from Casitas de Gila is amazing. Depending on your length of stay with us, be it a day or two, or a week or longer, we can suggest and guide you to a new trail based on your interests for every day that you are here.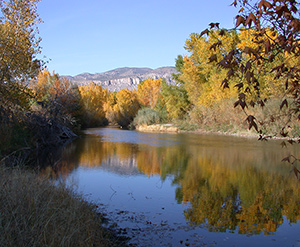 Here are some of the diverse day-hike experiences available to consider:
Easy-to-challenging hikes along the beautiful and historic Gila River with its old-growth Cottonwood, Sycamore, and Willow riverine forests, or along its equally pristine, secretive, and rarely visited tributary, the San Francisco River. Curious to see a 1000-year-old, 8-foot diameter Alligator Juniper? We can send you there!

Hikes to secluded hot springs; some are easily reached, while others require a full-day's challenging effort, such as the not-so-easy-to-find Apache Chief Geronimo's favorite hideaway spa in the Gila Wilderness.

High Country hikes with spectacular mountain vistas or winding passages through deep, multi-colored, volcanic rock-walled canyons.

Shady trails along crystal clear mountain streams, strewn with multicolored boulders, descending from Wilderness high country through Ponderosa and Alpine Coniferous Forests; or sunny treks across sparsely-vegetated High Desert mesas or rolling expanses of upland grassland and juniper.

A unique variety of dedicated trails featuring the best birding and wildlife watching opportunities in Southwest New Mexico.

Trails of inspiration or satisfaction for the avid nature photographer, landscape artist, or the aspiring connoisseur collector of fine rocks and gemstones.

Trails of heritage leading to signs and remnants of the past, such as ancient 1000-year-old Native American petroglyphs and pictographs; abandoned 19th and 20th century gold, silver, copper, and fluorite mines, mills and prospects; or historical sites that bring to life Native American and Pioneer settler, rancher, and military interaction or conflict in the Old Southwest.

Once a guest at Casitas de Gila has decided which types of trails are of greatest interest, Becky and Michael are available to suggest and discuss appropriate trail choices for existing seasonal weather conditions, and provide detailed maps that will get you to your trailhead in the shortest amount of time.

HIKING THROUGH THE SEASONS – WHAT TO EXPECT
One of the great things about Southwest New Mexico is that hiking in the Gila National Forest and Gila Wilderness is excellent no matter what the season.

Late Fall and Winter Hiking
In the Winter, day-hiking trails in the Gila National Forest and Gila Wilderness below 7,000 to 8,000 feet are almost always free of snow, with daytime temperatures rising well above freezing, especially on trails with Southern exposure. Southern exposure trails predominate when hiking from the Casitas due to our location on the south side of the Gila Wilderness. Hiking in late fall, winter, and early spring is at its exhilarating best, typically with a brilliant Sun arcing low through crystal clear, deep cobalt blue skies.

However, during the winter months occasional low pressure systems do move through from the west, bringing clouds and moisture for two or three days before clearing out. Precipitation during these times generally starts out as rain at lower elevations as the low approaches, drawing warm air up from Mexico, but may turn to snow as the low passes east and cold air is drawn down from the north. Then, usually within a day after the low passes, the Sun returns, quickly melting the few inches of snow that might have fallen overnight at elevations below 7,000 feet. During these winter months the Gila National Forest and Gila Wilderness are a landscape and nature photographer's delight, especially on hikes through the deep canyons where the brilliant, hard light of the Winter Sun cascades and refracts down sheer, multi-colored volcanic walls, creating a fantastic collage of golden light and deep blue and purple shadows along the half-frozen creek below.
Spring Hiking
With Spring, daytime temperatures are ideal for hiking, as the trails at all elevations in the Gila National Forest and Gila Wilderness open up for the hiker. During the Spring, most trails will present a wide variety of wildflowers as the forest wakes joyously alive with the calls of an increasingly diverse population of birds now making their annual northward migration. Spring runoff from mountain snow can vary significantly in volume from year to year and in some cases results in the temporary closure of some trails, but certainly not all. During this time your hosts at the Casitas are always available to advise and make suggestions if a desired trail is deemed unsuitable for travel.
Late Spring and Early Summer Hiking
Late Spring and Early Summer (primarily the months of May and June) in the Gila area can be quite hot for open, cross-country hiking at lower elevations, with daytime temperatures typically reaching into the high 80s and 90s F, before dropping 30 to 50 degrees overnight. However, for hikers coming to this area during these weeks before the Monsoon rains start in early to mid July, relief is just a mountaintop trail or canyon creek or river hike away.

There are several outstanding high country hikes in the Gila National Forest and Gila Wilderness leading across rocky mountainous divides and through Alpine forests in excess of 8,000 feet where the air is cool and crisp. Also, many of the day hikes available from the Casitas in the Gila National Forest begin at trailhead elevations of around 6,000 feet and lead up spectacular, well-shaded canyons into the high country of the Gila Wilderness. On such trails, temperatures are generally 10 to 20 degrees cooler than those found at the surrounding lowland elevation. Another heat-avoidance option is a short or long hike up or down the Gila River or San Francisco River. During these weeks just before the Monsoon rains begin, the Gila and San Francisco rivers are generally at their lowest levels for the year, thus allowing hiking on Forest trails that lead along the river banks and through the adjacent floodplain riverine forests of Cottonwood, Sycamore, and Willow. These unique hikes make for a delightful and very different kind of hiking experience in the Gila National Forest. Great rock hunting, surprise encounters with ancient Native American sites, abundant birds and animals, and crystal clear pools for swimming and cooling off await hikers here at this time of the year.
Mid-Summer to Late Summer Hiking
Once the Monsoon rains begin, generally by mid July, daytime temperatures moderate significantly, making almost all Gila National Forest trails good choices for Summer hiking, with the exception of some trails where flash flooding from thunderstorms could create problems. In these cases, your hosts Becky and Michael would be able to provide good alternative options.
Fall Hiking
For many of our guests, Fall is the optimum season for hiking in the Gila National Forest and Gila Wilderness. The temperatures are just right, the leaves are turning, and the Fall bird southern migration is underway for all to enjoy. With the Summer Monsoon season ending by the second or third week in September, flash flooding on the creeks or rivers is now no longer an issue of concern and all trails in the Forest are open. Depending on trail elevation, the peak in colorful fall foliage will vary from late September and early October along trails in the high country Aspen and Conifer forests to late October through the middle of November for those hiking the riverine forests of Cottonwoods, Sycamores, and Willows along the Gila and San Francisco rivers and tributaries, such as the Bear Creek Nature Preserve at Casitas de Gila Guesthouses. Fall is a gorgeous and inspiring time for hikers of all persuasions, be they avid birders, nature photographers, or hard core hikers wanting to get up into the high country for a final day-hike or overnight backpacking trip before Winter closes in.


SUGGESTIONS FOR FOOTWEAR, CLOTHING, AND OTHER USEFUL EQUIPMENT FOR DAY HIKING IN THE GILA NATIONAL FOREST AND WILDERNESS
Stout boots with good traction are a must for most trails in the Gila. The prevailing rock type on mountain trails is volcanic rock, which is hard and sharp. For trails along the Gila River or San Francisco River, a light pair of water-friendly shoes would be useful, as well as on the many trails that follow mountain canyon creek bottoms, which often require numerous crossings.

Clothing is seasonal as well as altitude dependent. During mid-Winter (December-January) mountain temperatures at lower day-hike elevations typically are in the 40-50°F range during midday but will drop rapidly once the sun sinks below the horizon. Having several layers available is the solution. Mid-Summer (July-August) daytime mountain temperatures are typically in the 80-90° F. range, but can drop 30-50° overnight. Because of the elevation, the sun is very intense.

Long pants, long sleeve shirts, and a wide-brimmed hat should be considered essential at all times of the year for hiking the Gila Country. Shorts, tank tops, and sandals don't work very well here, for several reasons. As previously mentioned, other than a few popular trails, such as the Catwalk trail or those at the Gila Cliff Dwellings, trails in the Gila are little travelled and rarely maintained, so tend to be overgrown, often with thorny species such as mesquite and catclaw, particularly after the Summer Monsoon Season (July-September). The other reason is the legendary New Mexico Sun which is absolutely brilliant here year-round, and at 5,000 plus feet in elevation can be especially brutal on unprotected skin unfamiliar with New Mexico skies. Sunscreen should be considered a must, the higher the rating the better.

If requested, the innkeepers at Casitas de Gila Guesthouses can provide our day-hiking guests with a detailed map to any numbered trail in the Gila National Forest. For guests who have brought a hand-held GPS and are interested in discovering petroglyphs, special rock collecting spots, or places with unique natural features, we can provide the lat-long coordinates to one or two special places that we've found. Smart phones that locate lat-long coordinates by cell tower triangulation are generally useless when hiking here because of the lack of cell towers and the mountainous terrain.
A NOTE FOR BACKPACKERS AND OVERNIGHT CAMPERS
If you are considering staying a Casitas de Gila Guesthouses before or after an overnight or multi-day backpacking/camping trip in the Gila Forest or Gila Forest, it is highly recommended that you do some serious pre-planning and investigation before you arrive in Southwest New Mexico.
In 2012, the Gila Wilderness experienced the huge Whitewater-Baldy fire which charred vast acreage in the Gila Wilderness, primarily in the higher elevations, resulting in the closure of some of the high country trails. However, since that time several of the main high country trails have been restored.
A newly-updated guidebook that we recommend is Hiking New Mexico's Gila Wilderness by Bill Cunningham and Polly Burk, published by Falcon Publishing (2017). There's a copy of the 1999 edition of this book in each of our Casitas, and the new edition is for sale in our Art Gallery.
Your hosts, Becky and Michael, who have been hiking trails in the Gila Country for 20 years now, are always ready to share with our guests at Casitas de Gila Guesthouses up-to-date local knowledge and any current information they have about trail conditions, closures, and re-openings.
Information on Hiking on Casitas de Gila's
265-acre Bear Creek Nature Preserve