Dark Sky Astronomy and Stargazing …
At Casitas de Gila Guesthouses, night sky and astronomy enthusiasts will find:
Secluded, dark, light-pollution-free clear skies.
Situated 30 miles from Silver City, on the edge of the Gila Wilderness, Casitas de Gila Guesthouses are able to offer some of the darkest skies remaining in the continental United States. (Have a look at the Light Pollution Map for our location and see for yourself!) As a guest at the Casitas you will be awed by the Milky Way, mesmerized by the Moon, thrilled by the Planets, and humbled by the unbelievable number of Stars which soar above your Casita almost every night of the year.

Have you ever seen the Andromeda Galaxy or the Great Nebula in Orion or the Beehive Star Cluster with your naked eye? At the Casitas you can see these and more. Without question the darkness and clarity of the Casita nighttime sky is a special treat that, unfortunately, is all too rare today. For some of our older guests, it's a view of the heavens that hasn't been seen since childhood. For our younger guests, it's a view they may be seeing for the first time and will remember forever.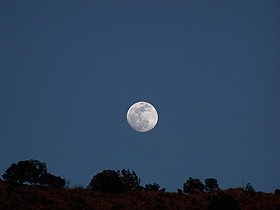 Star charts and spotting scope.
Each Casita has a tripod-mounted 18-36 power spotting scope which can be used at night to get a closer look at the heavens. Star clusters, the moons of Jupiter, and the craters of the Old Man in the Moon himself are easily viewable and readily enjoyed from right in front of your Casita.

Forgotten your constellations? The easy-to-use the star charts in your Casita will quickly refresh your memory. Should you have questions about the skies, Michael will be pleased to try and answer them.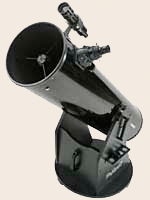 Guided Tours of the Heavens through our 10-inch reflecting telescope.
For our more curious guests who would like an even closer look at the heavens, Michael is pleased to offer a Guided Tour of the Heavens when weather, conditions, and our schedule permit. We have a 10-inch Orion Dobsonian reflector telescope that Michael can set up to showcase the best celestial objects in any given nighttime sky.


Set-up sites and power available for guests who wish to bring their own equipment.
Guests who have their own astronomy equipment and are looking for dark skies with comfortable lodging in interesting surroundings will enjoy a stay at Casitas de Gila Guesthouses. We have found, too, that non-astronomy-oriented partners are particularly happy at Casitas de Gila because of the variety of relaxing activities and interesting places to visit nearby.


The Casita lands have plenty of flat, level areas for setting up your equipment, regardless of size, with electric power accessible nearby. Many of our guests who bring their own equipment and are interested in astrophotography have been very pleased, both with the set up as well as the quality of astronomical photography that can be done here.


The best and most dependable months for good viewing are April and May and late September through early November. Winter months are also generally quite good with some spectacular celestial objects available, but temperatures will drop well below freezing after midnight. The monsoon rains that occur between June and early September make for often cloudy Summer skies with less dependable viewing.

We have a 12" diameter x 42" high concrete pier available.
Here are the particulars:
Pier adapters for your Astro-Physics 1200 or Losmandy (G8 or G11) EQmounts.

AC outlets on pier and at 2 adjacent locations.

DC outlets on pier: 2 separate sets of jacks; each set has a cigarette style jack and four 2.1mm x 5.0mm DC jacks.

Cables are provided to remotely connect your power supply(s) to the pier's DC outlets.

Flattened and leveled 12' x 15' area for stargazing adjacent to pier.

Please note that this pier was built by two of our guests who visit the Casitas three or four times a year. It is only available when they are not here and using it themselves. You are welcome to set up your equipment in the same location and use the power outlets, and there is power available at each Casita as well.



Here's how the skies over Casitas de Gila are looking for the next two days:
The Clear Dark Sky website will tell you how to read this chart.